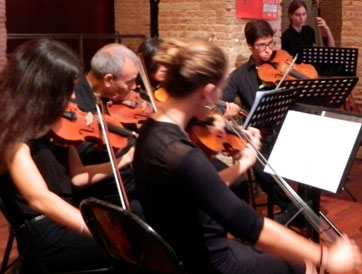 On Saturday 23th, at 12:00, will take place a concert in Valencia History Museum, within the program of Musical Societies exchange and as a tribute of International Peace Day. It will be performed by Jove Orquestra DIVISI (DIVISI Youth Orchestra) and Amigos de la Música Band from San Antonio de Benagéver.
They will perform the following program: 
JOVE ORQUESTRA DIVISI
Address: Álex de Sousa / Carla Mulas
Trumpet Suite * (Prelleur & Haendl S. XVII)
Menuet - March - Air
Pizzicatto Pizazz (R. S. Frost 1942-2013)
Napolitana Song* (P. I. Tchaikovsky 1840-1893)
The Ludlows BSO Passion legends (J. Horner 1953)
Palladio (K. Jenkins 1944)
* Trumpet soloist: Juan González
BANDA AMICS DE LA MÚSICA DE SANT ANTONI BENAIXEVE
Conductor: Enrique Barrachina
Music for the funeral of Queen Mary (Henrie Purcell/Enrique Barrachina)
A set of spirituals (Tradicional/John Kinyon)
Arioso (Johan Sebastian Bach/Jacob de Haan)
The Mission (Ennio Morricone/Frank Bernaets)
Soaring above the clouds (James Swearing)
Smoke on the water (Deep Purple/Paul Murtha)
1492 (Vangelis)
It will be free admission till complete the capacity.
NOTICE: During the concert the audiovisuals of the museum will remain turned off, to avoid distorting the musical hearing.