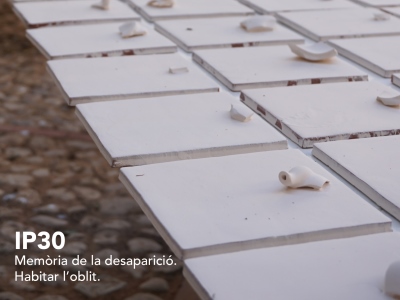 Opening: Friday, March 4th
Exhibition period: March 4th, 2022/June 12th, 2022
On March 4th, it will be inaugurated the exhibition by Rafael Tormo "IP30. Memòria de la desaparició. Habitar l'oblit.", which shows diverse disciplines and formats to deconstruct readings of different writings on the way in which we reconcile memory.
The exhibition
IP30 consists of three pieces that intend to reflect through the memorial, the monument, to write and generate a narrative that buries the dead to generate a place to live for the living.
The first piece is about the central work, which is configured as a suspended memorial, without verticality, from more than 700 ceramic pieces that refer to the hundreds of prisoners who died in the Francoist prisons of the city of Valencia and who rest in the mass graves of the General Cemetery.
The second piece hides in its transformation, from the manipulation of a 100 peseta coin minted by the Franco regime in the 60s, that the story has no essential meaning.
The third and last piece consists of two parts: the first is a visual in the Museum and the second, a performative in the General Cemetery of Valencia. Here the milestones are explored that no longer only mark the space of the mass graves as a precious gesture that marks the place where the bodies are, but are signs of openness to be attentive to listening.
The exhibition will have other related activities that will be reported on soon.
INFORMATION: 963 70 11 05