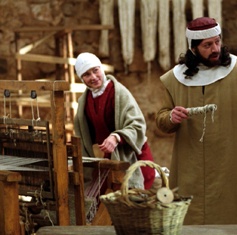 Year-long Educational Program
Languages:
Valencian and Spanish (please contact with us about others languages)
Addressed to:
Childhood Education / First Cycle of Primary Education
Workshop to identify and compare aspects of the family and work or the present  with the past.
What will we do?
Making use of miniatures and audiovisuals, like through our demonstration of a medieval bakery, we will learn basic notions about the distribution of space and furniture used in Valencia´s past. In this way, we will learn more about how daily life and the concept of family has changed over time.
With this foundation, we will look for the comparison between the past and the present with each participant.