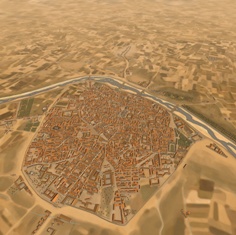 Year-long Educational Program
Languages:
Valencian and Spanish (please contact with us about others languages)
Addressed to:
Childhood Education / Primary and Secondary Education
A guided visit to identify the different stages of the city of Valencia's history, highlighting the most relevant themes.
What will we do?
After presenting the activity in the Agora of the museum, we will begin a guided tour of the permanent exhibition. The methods are based on the exhibition script and active participation. We will provide participants with observation-based worksheets to help them understand the major stages of the city's history.
The contents of this program will be determined by the group's educational function, in order to focus on topics that are more general or in depth about specific historical stages, such as the following:
Valentía, the Roman stage
Balansiya, the Islamic period
Medieval history of Valencia
Valencia between the Germanías and the Nueva Planta decrees
Valencia, Bourbon municipality
Images of contemporary Valencia